Cross Country Skiing around Donner Summit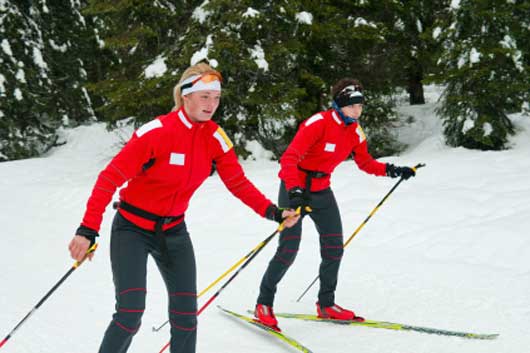 A seemingly endless number of trails are open for cross country skiers and snowshoers around Donner Summit. Many can be accessed from the Sno-Park at the summit. Others are found along Highway 20 and north of Truckee on Highway 89.
Besides the virgin country in the Tahoe National Forest, there are groomed snow trails and commercial cross country ski areas such as Royal Gorge where you can ski on professionally groomed ski tracks.
Donner Summit Sno-Park
Donner Summit Sno-Park at Donner Summit is a good place to launch a number of cross country and snowshoe excursions. The Snow-Park is located at the Pacific Crest Trail parking area. Winter travelers can set out either north or south along the Pacific Crest Trail. A pedestrian tunnel leads under Interstate 80 for those going north.
Unlike most other spots along the highway, you can be sure the lot will be plowed and there are restrooms available. The Sno-Park is at the Boreal ski area turnoff, near the Pacific Crest Trail parking area.
Sno-Parks are parking areas maintained in the winter to allow people to park safely and pursue winter activities such as cross-county skiing or snow shoeing. They have pit toilets available. To use a Sno-Park you must have a permit. You can purchase a day permit for $5 or an annual pass (Nov. 1 - May 30) for $25. They are good at any California, Oregon, Washington, or Idaho Sno-Park.
Near Donner Summit you can be purchase Sno-Park permits at the following places:
Boreal Inn next to the Sno-Park entrance
Placer County Visitor Bureau 13411 Lincoln Way, Auburn
Sports Chalet #33, 10349 Fairway Dr., Roseville
Mountain Recreation, 491 E. Main St., Grass Valley
Tahoe Dave's Skis and Boards, 10200 Donner Pass Rd., Truckee
Mountain Hardware and Sports, 11320 Donner Pass Rd., Truckee
Truckee Ranger Station, 10811 Stockrest Sp. Rd., Truckee
For a complete list of locations that sell Sno-Park permits in California, see
California Sno-Park Vendors
Permits may also be purchased online for an additional $1.95 at
Sno-Park Permits.
Nordic Ski Resorts
Royal Gorge at Soda Springs 2015-16 Season
Royal Gorge opens this 2015-2016 season with more than 200 kilometers of ski trails and 6,000 acres of exhilarating terrain. Visitors will find a recently renovated Summit Station, new rental gear, and major trail improvements. Royal Gorge continues to be the premier cross-country ski center in the United States.
Hours: 8:30 AM to 4:00 PM
Expanded trails now connect Royal Gorge with Sugar Bowl through the Van Norden meadows. Snowshoers are allowed to use the facilities, but must stay off the groomed ski tracks. Special trails are being set aside as dog friendly routes.
More Adventures at Royal Gorge
Royal Gorge is again offering Snowkiting, kite-powered skiing in Van Norden Meadow. Snowkiting lessons and rentals are available. Or try out the new Snow Bikes, mountain bikes with fat snow tires on 10K of specially groomed trails. Snow Bikes rent for $20 per hour.
Plan ahead for the return of their popular Gold Rush Race this March. An unrestricted season pass for both Royal Gorge and Sugar Bowl allows skiers to move freely between the two resorts on the three trails that connect them.
Facilities
Summit Station Lodge offers ticket sales, food service, rentals, repairs, and retail sales. It also serves as the center for ski lessons.
Wildly Warming Hut serves hot drinks and food options. All other Warming Huts have water available.
To reach Royal Gorge take the Soda Springs exit off Interstate 80. Open 7 days a week.
Royal Gorge
Ticket Prices for 2016-17
Children 12 and under and super seniors 75 and older always ski for FREE.
Age
All Day
All Day Holiday
Half Day*
Half Day Holiday*
Season Pass
Adult 23-64
$35
$38
$29
$33
$339
Young Adult 13-22
$29
$33
$23
$26
$319
Senior 65-74
$29
$33
$23
$28
$319
Child 0-12 or Senior 75+
Free
*Half Day is from 12:30 PM to 4:30 PM
Purchase a CORE Daily Pass for $21 and get $5 - $6 off every other trail ticket this season.
Holiday Periods for 2016 - 2017
December 17, 2015 to January 1, 2017
January 14, 2017 to January 16, 2017
February 18, 2017 to February 26, 2017
Cross Country Lessons 2016-17
Lesson
Package*
Lesson Only
Adult 13 and older
$68
$32
Child 6 - 12
$47
$32
*Rental equipment, all-day trail ticket, and 1¼ hour lesson
Equipment Rentals - 2016-17
XC Rental Package1
All Day
Afternoon (1 PM - 4 PM)
1Includes skis, boots, and poles.
*Prices subject to change.
Adult 13 and older
$29
$24
Child 12 and Under
$18
$14
Other Equipment Rentals
Snowshoes $29, Child snowshoes $18, Skis only $14, boots only $11,
poles $5, pulk sled $26.
Tahoe Donner Cross Country Ski Area - 2016-2017 Season
Tahoe Donner Cross Country Ski Center provides over 100 kilometers of groomed trails for cross country skiing and snowshoeing. They have a variety of terrain from gently rolling hills to climbing peaks, ranging from 6,500 feet to 7,550 feet. A day lodge serves as the base for the ski area while along the trails are a number of huts.
Alder Creek Adventure Center opened November 27, 2015. The center includes a new rental racking system, expanded wax rooms, ski tuning services, upgraded locker rooms, more dining offerings, meeting space, fire pits, outdoor seating, and more.
Fat Bike Rentals are offered again this winter. Oversize tires allow the bikes to traverse snow and soft surfaces. The bikes are allowed on several designated trails. Trail pass for Fat Bike is $19 for the public and $15 for Tahoe Donner members.
The Tahoe Donner development is located north of Truckee. Cross country skiing is available from 8:30 AM to 5:00 PM, with night skiing on some evenings.
(530) 587-9484
Tahoe Donner Cross Country
Ticket Prices for 2016-2017
Children 6 and under ski for free.
Ticket
Adults 18-59
Child 7-12
Junior 13-17
Seniors 60-69
Super Seniors 70+
Public All Day
$34
$14
$25
$14
Public After 1 PM
$29
$12
$20
$12
Member* All Day
$22
$6
$17
Free
Member* After 1 PM
$17
$6
$15
Free
Guest** All Day
$29
NA
NA
NA
*Member of the Tahoe Donner Association with membership card.
**With guest card
Dog Trail Pass $5
Equipment Rentals for 2016-2017 Season
Rental Package
Adults 13 and older
Children 12 and under
Stride, Skate, Snowshoe All Day1
$29
$17
Demo Package All Day1
$34
NA
Fat Bike
$34 for 2 hours
Chariot Sled Single, All Day2
$29
NA
Chariot Sled Double, All Day2
$39
NA
Chariot Sleds Per Hour2
$15 per hour
NA
1All Day is 8:30 AM - 5:00 PM. Some discounts for consecutive day rentals.
2Chariot sleds carry 1 child, double sleds carry 2. Hourly rates only available midweek, non-holiday.
Holiday Dates
December 23, 2016 – January 2, 2017
January 14 – 16 2017
February 18 – 25, 2017
Tahoe Donner Cross Country Lessons - 2016-2017
Group ski lessons are held on weekends and holidays at 10:30 AM, 12:00 PM, and 1:30 PM.
Adult Learn-to-Ski or Skate Package
Learn the basics of cross country skiing and how to handle different kinds of terrain. Package includes 90 minute lesson, trail pass, all-day rental equipment.
Rates: Package - $69, Lesson only $34
Learn to Ski lessons are at 10:30 AM, 12:00 PM, and 1:30 PM on weekends and holidays only.
Learn to Skate lessons are at 12:00 PM on weekends and holidays only.
Children's Ski Lessons - Weekends and Holidays Only, Ages 5-12
1 hour 45 minutes of instruction, snow play, snack, hot drink, and supervision, along with rental equipment. Weekends and holidays only.
Tiny Tracks, ages 5-7: 10:00 AM to 11:45 AM - $TBA
Kids Club, ages 7-12: 12:00 PM to 1:45 PM - $RBA
Donner Summit Nordic Ski Trails
Donner Summit Nordic Routes
Always consider snow conditions and the ability of your party before setting out. Avalanche danger could impact any of these routes and make them unsafe for travel. See our information on Backcountry Safety to the left.
Azalea and Flora Lakes
Distance: 1.5 miles one way
Elevation changes: +50 feet (7,200' - 7,250')
This gentle trip makes a good half-day outing. Begin at the Donner Sno-Park and ski out to the Pacific Crest Trail. Follow the trail south a quarter mile and then begin to veer to the left (west) slightly, leaving the trail and soon arriving at Azalea Lake. Flora Lake lies just a little farther south. For a longer trip continue south to Lake Angela (another 0.75 miles) or all the way to Donner Ski Ranch, for a total distance of 3 miles.
Castle Pass
Distance: 2.0 miles one way
Elevation changes: +735 feet (7,200' - 7,935')
This popular route leads from the trailhead on the north side of Interstate 80 at the Boreal exit. You can't park there, but you can leave your gear and passengers and drive back to park at the nearby Sno-Park.
The trail leads up the road from the trailhead and then up Castle Valley, either following the road and making your own trail. 8,219-foot Andesite Peak will be on your left and 9,103-foot Castle Peak ahead on your right. The trail gradually becomes steeper and steeper as you approach Castle Pass north of Andesite Peak. For a more ambitious trip when snow conditions are safe, circumnavigate Andesite Peak.
Norden to Boreal Ridge
Distance: 2 miles one way
Elevation changes: +665 feet (7,000' - 7,665')
Begin near Norden, either at the Sierra Club's Clair Tappan Lodge or nearby. Follow the road north up the valley past Lytton Lake and then pick a safe route to the summit of Boreal Ridge for a spectacular view. Avoid skiing within the boundaries of Boreal ski area.
Warren Lake Trail to Frog Lake Overlook
Distance: 3 miles one way
Elevation changes: +1,400 feet (7,200' - 8,600')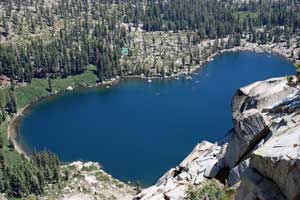 This difficult route from the Donner Summit Sno-Park to the Frog Lake overlook should only be attempted by experienced cross-country skiers capable of assessing avalanche danger. Pass under the freeway via the PCT pedestrian tunnel and soon turn right onto the Summit Lake - Warren Lake trail.
The first 2 miles climb gradually, while the last mile up the ridge is quite steep. Castle Peak stands ahead of you on your left. At the saddle on the ridge turn right up to the Frog Lake overlook, using caution not to approach too close to the edge. Frog Lake Cliff drops nearly vertically 1000 feet to Frog Lake. Views east and south from the overlook are magnificent. Nearby Summit Lake makes a nice addition on the turn trip.
Donner Memorial State Park Trails
All the snowshoe and cross-country ski trails at Donner Memorial State Park begin at the parking lot by the museum. Some trails are designated for cross-country skiing and others for snowshoeing. Snowshoers may walk along the side of ski trails. Park entrance fees are required.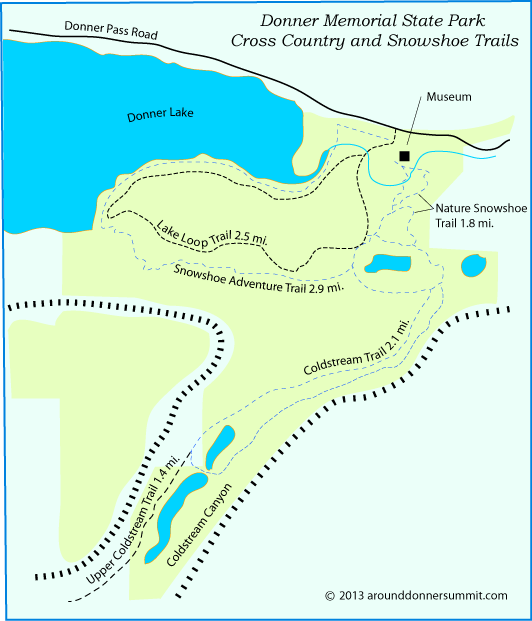 Highway 89 Nordic Routes
Always consider snow conditions and the ability of your party before setting out. Avalanche danger could impact any of these routes and make them unsafe for travel. See our information on Backcountry Safety to the left.
Wheeler Loop
Distance: 5 mile loop
Starting Elevation: level (6,400')
Begin at an unmarked trailhead about 1 mile southeast of the Jackson Meadow Road. Best after plows have cleared shoulders for parking. Follow county road around north side of Kyburz Flat.
Little Truckee Summit
Distance: varies
Starting Elevation: (6,400')
Located 17 miles north of Truckee. With about 110 miles of groomed trails, Little Truckee Summit is one of the leading destinations for winter adventure, but the area gets heavy snowmobile use.
Sagehen Summit
Distance: 3 mile one way
Elevation changes: -150 feet +200 feet (6,450' - 6,300' - 6,500')
Park at Sagehen Summit and ski out the road along the side of Sagehen Creek to Sagehen Campground. This fairly level route descends gradually to the creek side and then begins an easy uphill grade out to the campground.
Cabin Creek Loop
Distance: 6.5 mile loop
Elevation changes: +750 feet (6,250' - 7,000')
Cabin Creek is 3 miles south of Truckee on Highway 89. Go 1 mile up Cabin Creek Road to the trailhead. The loop route begins going west for a quarter mile and then turning right onto Jackass Point Road. At about 1 mile turn left uphill and continue to stay left at further intersections to complete the loop. Check with the Forest Service to be sure snow conditions are safe before setting out.
Pole Creek
Distance: 3 miles one way
Elevation changes: +700 feet (6,000' - 6,700')
The trailhead is 6 miles south of Truckee on Highway 89. Find some parking on the west side of the road. This area is closed to snowmobiles. Follow the road up Pole Creek. Various side roads provide opportunities for more extended trips. Check with the Forest Service to be sure snow conditions are safe before setting out.
Highway 20 Nordic Routes
Always consider snow conditions and the ability of your party before setting out. Avalanche danger could impact any of these routes and make them unsafe for travel. See our information on Backcountry Safety to the left.
Bear Valley
Distance: varies
Elevation changes: level (4,500')
Bear Valley makes a great place to practice your skiing or snowshoeing on level ground while enjoying the surrounding mountain beauty. Bear Valley is along Highway 20, five miles west of the junction with Interstate 80. Be sure to park legally.
Omega Rest Area
Distance: 3.5 miles one way
Elevation changes: +150 feet (5,150'' - 5,300')
The Omega Rest Area along Highway 20 is a popular cross-country and snowshoe starting point. Parking and a restroom are available. The most common route is to head northeast along the Pioneer Trail. A 4-wheel drive road parallels the trail. For 3.5 miles the route climbs very gradually through forested terrain with a few dips along the way. Beyond 3.5 miles the trail begins a steep descent to Bear Valley, another 2 miles.
Five Mile House to White Cloud
Distance: 6.5 miles one way
Elevation changes: +650 feet (3,700' - 4,350')
Because of its l3,700-foot starting point, this ski route is only good when snow levels are low. Begin around the Five Mile House on Highway 20 and ski along the Pioneer Trail which parallels the road on its north side. The slope is a gradual climb all the way to White Cloud Campground. The gentle return makes for great skiing.
Other Passes - Other Nordic Trails
Echo Summit
On nearby Echo Summit (Highway 50) has miles of Nordic trails around the Sno-Park at the pass and lots more around Loon Lake in the Crystal Basin. Get all the information on Discover Echo Summit.
Carson Pass
One of the classic ski trails leads from Echo Summit to Kirkwood on the Carson Pass. There are plenty of other exciting cross country ski trails on Carson Pass. Kirkwood runs a cross country center with groomed trails. Or for the more adventurous, head out from Carson Pass into the Mokelumne Wilderness. For information, see Up and Over Carson Pass.
Ebbetts Pass
A little farther south Ebbetts Pass has miles of cross country trails to explore. Bear Valley has a cross country center with groomed trails. Many skiers and snowshoers enjoy heading up Highway 4 past Lake Alpine or out to Spicer Meadow Reservoir. To learn more, visit Ebbetts Pass Adventures.
Sonora Pass
Sonora Pass (Highway 108) has numerous cross country routes. Some lead around the Dodge Ridge area while others strike out from the SnoPark near Strawberry. Find all the information on Sonora Pass Vacations.