Donner Ski Ranch
Skiing and Boarding
Donner Ski Ranch Index
Donner Ski Ranch is located along Highway 40, close to the top of Donner Pass. Take the Soda Springs exit off Interstate 80 and follow the road 3.5 miles to Donner Ski Ranch.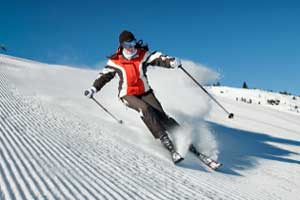 Donner Ski Ranch operates 6 chairlifts and 2 moving carpets to carry skiers up to more than 500 acres of mountain terrain. The resort offers slopes of varying difficulty, suitable for all ability levels.
Donner Ski Ranch has 52 runs with the longest stretching 1½ miles. The base elevation is 7,031 feet while the summit stands at 7,781 feet. Lifts and runs cover both the front and back side of the mountain.
Lift Operation Hours: 9:00 AM - 4:00 PM
Donner Ski Ranch
Donner Ski Ranch Lift Tickets - 2017-18 Season
Age
Full Day
Half Day1
Season Pass
Adult 18-69
$75
$59
$349
Youth 13-17
$65
$49
$299
Child 7-12
$35
$29
$199
Child 6 & Under
$28
$15
$49
Ski Moving Carpet Only, all ages
$12
Senior 70 and older
$65
$49
$199

1Half Day is 12:30 PM to 4:00 PM
Donner Ski Ranch Ski and Snowboard Rentals - 2017-18 Season
Age
Skis or Snowboard Packages
Additional Days1
1Additional days purchased at time of rental.
Credit card deposit required, plus state ID. Must be 18.
Adult 18 and older
$42
$30
Youth 13-17
$42
$30
Child 7-12
$35
$25
Child 6 and under
$15
$10
Helmet
$8
$6
Snowboard Only
$27
$20
Snowboard Boots Only
$15
$10
Donner Ski Ranch Ski and Snowboard Lessons - 2017-2018 Prices
Lessons meet at 9:00 AM, 10:30 AM. 12:30 PM, and 2:00 PM
Lesson
Age
Price
Price Includes
*Beginner lift ticket allows access to chairs 4, 6, and the moving carpet.
Learn to Turn Beginner Packages
Skiers or Boarders,
Levels A or B
Adult 18+
$99
1½ hour group lesson,
beginner lift ticket*,
rental equipment
Young Adult 13-17
$99
Child 7-12
$79
Senior 70+
$99
Group Lesson Only
Ages 7 and older
$38
1½ hour group lesson
Private Lesson
$99 for 1st hour
private 1 hour instruction
Donner Ski Ranch Facilities
Lodge with cafeteria, ski rentals
Old 40 Bar & Grill
92 room hotel/condo
Sierra Club's old Signal Hill warming hut, base of chair #3
Donner Ski Ranch Tubing Hill
Donner Ski Ranch's Tubing Hill has a moving carpet to carry sliders to the top of the hill. Tubes are provided.
Hours: 10:00 AM - 4:00 PM,
2-hour session price: $28