Picnicking around Donner Summit
Donner Lake - Truckee Picnics
Picnic Places Index
Donner State Park
West End Beach Park
Shoreline Park
Donner Camp
Deer Park
Stampede Vista
Manzanita Day Use at Sugar Pine Reservoir
Ralston Picnic Area
Placer Big Trees
Rocky Creek
Omega Rest Area
Golden Quartz
Fuller Lake
Big Bend
Gould Park
Rollins Lake
Donner Memorial State Park
Located at the eastern end of Donner Lake. The day-use area is situated along the lake with picnic tables, restrooms, a beach, fishing, and a lakeside interpretive trail that has 18 panels which discuss the natural and cultural resources in the area.
Fees: $8 per vehicle park entrance fee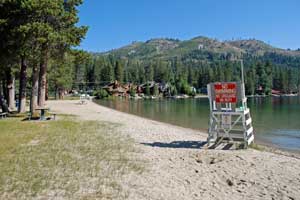 West End Beach Park
West End Beach Park
Located at the west end of Donner Lake. The lakeside park has a beach, picnic area, restrooms, playground, basketball, tennis, kayak and paddleboat rentals, and a snack shack.
Fees: Adults $4, Children $3
Shoreline Park
This little park is situated about mid-way on the north shore of Donner Lake. It has picnic tables, a fishing pier, and restrooms.
Donner Camp
On Highway 89 three miles north of Truckee. Four picnic sites, restroom, interpretive trail explains the 1846 George Donner family camp. In late May and early June the Donner Camp Picnic Area becomes a blaze of purple, thanks to a carpet of common camas (Camassia quamash) and other wildflowers. The site also serves as an access point for the Commemorative Emigrant Trail.
Deer Park
On Highway 89, nine miles south of Truckee at the turnoff to Alpine Meadows. The picnic area is located along the Truckee River. It is a walk-in sites with picnic tables and access to an adjacent bike trail along the river.
Stampede Vista
Two sites located at Stampede Reservoir. Restroom, observation platform. A good place for bird watching.
Foresthill Divide Picnic Spots
Manzanita Day Use Area at Sugar Pine Reservoir
Located on the north shore of Sugar Pine Reservoir, overlooking the lake near Giant Gap and Shirttail campgrounds. 20 picnic sites, some with wheelchair access. Serves as the trailhead for the Sugar Pine Discovery Trail, an accessible trail. A sandy swim area is at the water's edge. Vault toilets are on site.
Fees: $3 per vehicle
Ralston Picnic Area
Located on the Middle Fork of the American River, 12 miles east of Foresthill on Mosquito Ridge Road. Follow Forest Road 23 one mile south off Mosquito Ridge Road to the picnic area. You will find five picnic sites along the river with vault toilets but no water.
Placer Big Trees
The Placer Big Trees Grove of Giant Sequoias is 23 miles east of Foresthill off Mosquito Ridge Road. Take Forest Road 16 off Mosquito Ridge Road, bearing to the right and continuing for 0.7 miles to the picnic area. It is the trailhead for a nature trail through the big trees. At the picnic area you will find 3 picnic sites with tables and pedestal grills. There is piper water and flush toilets.
Picnic Areas along Highway 20
Rocky Creek
On Bowman Lake Road, a short distance from Highway 20. Parking, interpretive signs, interpretive trail, restrooms, water, picnic area with pedestal stoves.
Omega Rest Area
Along Highway 20. Interpretive trail, scenic overlook platform, vault toilets. No water available.
Golden Quartz
Situated along the South Yuba River near the town of Washington, off Highway 20. Tables and vault toilets.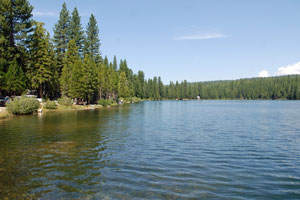 Fuller Lake
Fuller Lake
Access by taking Bowman Lake Road off Highway 20. Follow the road 4.5 mites to Fuller Lake. Picnic tables, vault toilets, lake access, fishing, boat ramp. Operated by PG&E.
Western Slope of I-80 Picnics
Big Bend Picnic Area
Big Bend
Located behind the Big Bend Visitor Center off Interstate 80 at the Big Bend exit. Three picnic sites along the South Yuba River. Vault toilets, river access, fishing, adjacent to a group campground.
Gould Park
Access from Interstate 80 at Cisco Grove. Picnic sites located along the South Yuba River. River access, historic ruins. Operated by Placer County.
Rollins Lake
All four campgrounds at Rollins Lake near Colfax offer day use. The four sites have beaches, swimming, boat rentals, picnic areas, and restrooms. For more details about Rollins Lake campgrounds, see Rollins Lake Camping.
Fees: About $8 per vehicle with 4 people and $1.50 for each additional person