Easy Interpretive Trails
Boca Townsite Interpretive Trail
Distance: 0.5 mile loop
Elevation: slight uphill grade (5,600')
Trailhead: Hirschdale exit off Interstate 80 east of Truckee

The Boca Townsite Trail located east of Truckee recreates images of the historic town of Boca first built as a construction camp for the Central Pacific Railroad and later provided ice and timber for the Boca Mill and Ice Company.
Boca Townsite Trail
Glacier Meadow Loop Interpretive Trail
Distance: 0.5 mile loop
Elevation: virtually level (7,200')
Trailhead: Pacific Crest Trail parking area near Boreal Ski Area

Exit Interstate 80 at the Boreal Ski Area, drive to the south side of the freeway and turn left toward the Pacific Crest Trail parking area. Enjoy the small loop trail around West Lakes. For more adventure head out on the PCT in either direction.
Loney Meadow Interpretive Trail
Distance: 1 mile loop
Elevation: +100 feet (6,000' - 6,100')
Trailhead: Loney Meadow on Forest Road 18-20, off Bowman Lake Road, off Highway 20
To reach the trailhead drive 10.5 miles out Bowman Lake Road off Highway 20. Turn right and travel approximately 10.5 miles until just after the pavement ends. Turn right where a sign marks the rough, cattle road 0.7 miles away. You will travel through a logged area and veer to the left to the Loney Meadow Parking lot. High clearance vehicles are advised.
This short hike is popular for its wildflowers, birds, and wildlife. The trail passes through an old homestead and a short distance up the side of Bowman Mountain. Other trails connect to nearby lakes such as Bullpen Lake (1 mile each way additional), which make an even more enjoyable hike.
Omega Diggings Overlook Trail
Distance: 0.3 mile loop
Elevation: 5,150 feet - paved trail virtually level
Trailhead: Omega Rest Area, 18 miles east of Nevada City on Highway 20
This short, paved trail winds along the ridge to an overlook with an interpretive sign providing the names of all the major peaks and other features visible from the panoramic view point. Visible below in the valley are the scars of early mining in the area. The trail is suitable for children, but steep cliffs are nearby.
Along the trail are a number of interpretive signs. Nearby at the rest stop are restrooms. The rest stop is also situated on the Pioneer Trail, providing opportunities for longer hikes in the area.
Rock Creek Nature Trail
Distance: 1 mile loop
Elevation: -100, +100 feet (3,400 - 3,300')
Trailhead: Rock Creek Nature Trail 2 miles east of Five Mile House on Highway 20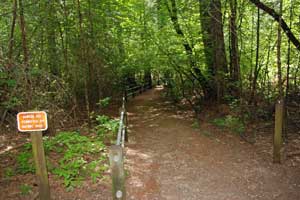 To reach the trailhead for this short nature trail, turn onto the Washington Ridge Conservation Camp Road off Highway 20 near the Five Mile House. After 1 mile watch for a sign: Nature Trail. Turn left there and descend 1 mile to parking. A picnic table and pit toilet are found tat the trailhead, but no water. The easy, shaded hike follows along Rock Creek. Brochures are available at the trailhead and native plants and trees are labeled.
Sierra Discovery Trail
Distance: 1 mile loop
Elevation: 4,600' - virtually level
Trailhead: Sierra Discovery Trail parking lot off Bowman Lake Road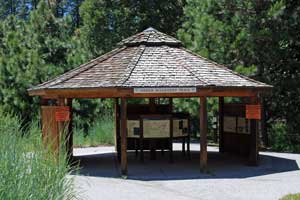 Drive 0.5 miles on Bowman Lake Road off Highway 20 to the trailhead. There you will find restrooms, information kiosks, water, and a small picnic area. The well maintained trail makes a loop through the meadow and forest and along easy-flowing Bear River. Along the trail you will pass 12-foot high Bear River Falls. It is an easy hike for children.