Fishing around Donner Summit
The fame of the Truckee River brings fly fishermen from far away places to try their luck. Dozens of other streams and lakes around Donner Summit are nearly as popular. The big reservoirs like Stampede, Boca, and Spaulding are among the best fishing spots in the region. Beautiful Donner Lake is another favorite destination for anglers. Some, however, like to seek out less well known waters such as the lakes of Grouse Ridge and remote side streams tumbling down from the high peaks.
The Truckee River
The Truckee River flows out of Lake Tahoe at Tahoe City and swings north to the town of Truckee. There, gaining more flow from tributaries, the river turns east and meanders through the north end of the Martis Valley and Juniper Flat before gathering speed and rushing toward Nevada.
Where to Fish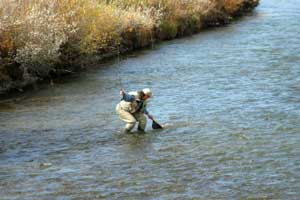 Casual anglers can find numerous places to fish the Truckee River between Tahoe City and the Squaw Valley turnoff. The first 1000 feet below the dam at Tahoe City are closed to all fishing. A paved trail follows the river, providing an easy way to move along its bank from place to place to fish.
Fly fisherman like the river below Truckee. Good access points are found along Glenshire Road which follows the river east from town. Be sure to check current fishing regulations before setting out. San Francisco Flycasters owns a private fishing reserve from a point below the Glenshire bridge to the first Interstate 80 bridge where Prosser Creek joins the Truckee. There shoreline there is closed to the public.
Other good places for fishing the Truckee River are at the town of Hirchdale a couple of the miles east of Truckee and also back in town at the Loop in the river.
Truckee River Regulations
Always check for updates or changes in regulations:
California Freshwater Fishing Regulations
Area
Fishing Season*
Off Season**
*Last Saturday in April through November 15.
**November 16 through the Friday preceding the last Saturday in April.
Truckee River for 1,000 feet below the Lake Tahoe outlet dam.
Closed to all fishing.
Closed to all fishing.
From the confluence of Trout Creek downstream to the Glenshire Bridge
Minimum size limit: 14 inches total length. Only artificial lures with barbless hooks may be used. Limit 2
Only artificial lures with barbless hooks may be used. Limit 0
From the Glenshire Bridge downstream to the mouth of Prosser Creek
Minimum size limit: 14 inches total length. Only artificial flies with barbless hooks may be used. Limit 2
Only artificial flies with barbless hooks may be used. Limit 0
From the mouth of Prosser Creek downstream to the Nevada State Line
Minimum size limit: 14 inches total length. Only artificial lures with barbless hooks may be used. Limit 2
Only artificial lures with barbless hooks may be used. Limit 0
Boca, Prosser Creek, and Stampede Reservoirs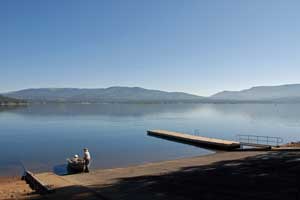 Stampede Reservoir
Boca, Prosser Creek, and Stampede reservoirs are all within several miles of each other, just a few miles east of Truckee. You'll find easy access off Interstate 80. These reservoirs have brown tout, rainbows, kokanee, and a few Mackinaws.
Most of the anglers here use boats and troll. Shore fisherman usually use bait. Fly fishermen like to work the areas near the inlets. For good fly fishing advice for Boca and other nearby waters, see Fly Fishing the Sierra.
Where to Fish the Reservoirs
At Boca Reservoir trollers do well near the dam at around Black Rock.

At Stampede Reservoir (shown above) anglers have sought out rainbow trout in the Sagehen Arm and in the Little Truckee Arm. In Prosser Creek Reservoir fishermen like the areas near the inlet and close to the dam.
Fishing the Reservoir Area Streams
Sagehen Creek: The creek feeds Stampede Reservoir from the west and can be accessed along Highway 89 north of Truckee and from roads along the south shore of Stampede. Fish the creek for rainbow and brown trout.
Prosser Creek: The creek spills into Prosser Creek Reservoir from the northwest. Rainbow trout are planted regularly where Highway 89 crosses the creek. Good fishing is found both upstream and down from Highway 89.
Little Truckee River: The river meanders, tumbles, and rushes nearly 20 miles from Webber Lake (11 miles north of Donner Summit) east and southeast to Stampede Reservoir. Between Stampede and Boca is a wild trout area with special regulations. Access the upper part of the river along Highway 89.
Donner Lake
Anglers at Donner Lake go after Mackinaw, rainbow and brown trout along with kokanee salmon. The lake is stocked with kokanee salmon and rainbow trout. Many anglers believe that Donner has bigger Mackinaw than nearby Lake Tahoe. While most fishermen work from boats, there are plenty of good places along the shore to fish.
Where to Fish on Donner Lake
There are about 30 public docks along the north shore of the lake which make good places from which to fish. Many shore fishermen like the area around the launch ramp. China Cove is a popular places for those trolling for Mackinaws, while for those going after rainbow trout, the west end of lake near the mouth of the river has proved to be a good spot.
Lake Spaulding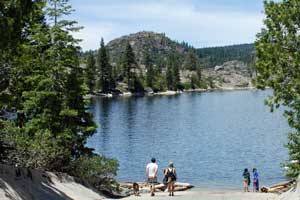 700-acre Lake Spaulding is 25 miles east of Nevada City, just off Highway 20. PG&E, which owns the reservoir, charges $7 for day-use parking and $10 for boat launching and parking. The lake is usually open from mid-May to mid-October. Fishing is good for both rainbow and brown trout.
Where to Fish at Lake Spaulding
For those who enjoy fishing from the bank, the best places to fish Lake Spaulding are along the northwest shore. A convoluted trail from just below Fuller Lake leads to Spaulding. Trollers have had their best luck with rapalas around the dam and up in the Gonelson Canyon inlet.
Bowman Lake Road Fishing Spots
Fuller Lake
Little Fuller Lake on Bowman Lake Road off Highway 20 is known as one of the best fishing spots in the area. It is easy to reach and there is no fee if you park near the dam. The lake has rainbow, brown, and brook trout. Anglers often use float tubes to find the best spots on the lake, but shore fishermen can work their way around to good spots on the eastern bank.
Where to Fish at Fuller Lake
Good drop offs are found along the east side of the lake, especially up in the northeast corner and the southeast corner. The area near the dam is known for its good fishing. Another favorite spot is near the inlet stream at the northwest corner of the lake. All kinds of fishing are successful here, especially bait fishing a fly fishing.
Rucker Lake
A little farther out Bowman Lake Road is Rucker Lake. Although many try their luck fishing from shore, the most successful fishing has been from float tubes. The lake is known for its largemouth and smallmouth bass. It also has a population of bluegill.
Where to Fish on Rucker Lake
The smallmouth bass seem to like hiding out in the reeds along the edge of the lake. Anglers have reported good success along the north shore.
Grouse Ridge Lakes
Most of the lakes in the Grouse Ridge area have good fishing. Those closest to the roads, such as Carr Lake, Feeley Lake, and Lindsey Lakes are more heavily fished than those deeper in the roadless area. Especially good fishing lakes there include Rock Lake, Penner Lake, Glacier Lake, Milk Lake and Island Lake. Almost all of the lakes can be reached as day hikes.
The lakes have brook and rainbow trout. Glacier Lake is known for its golden trout. Feeley Lake also has bullhead catfish.
Lake Valley Reservoir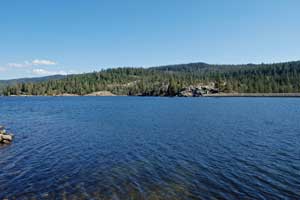 Lake Valley Reservoir, just a couple miles south of Yuba Gap, makes a quiet place to fish. With a 10 MPH speed limit fishing boats and kayaks are about all you find on the lake. A good boat ramp is on the north shore at the Silvertip Picnic Area.
Most anglers fish the lake from boats. A strong population of bullhead catfish have been competing with trout, but regular plantings of rainbows have provided good fishing, especially early in the season. There are also some brown trout lurking in the depths. Fish for catfish off the shore where there is sandy bottom. Look for trout in the more rocky parts of the lake.
Scotts Flat Reservoir
At 3000 feet in elevation, Scotts Flat Reservoir is a popular place for family outings, boating, and fishing. Fishing in the lake is good for brown trout, Kokanees, and rainbows. The lake also has strong populations of smallmouth and largemouth bass, bluegills and catfish.
Where to Fish on Scotts Flat Reservoir
Many shore anglers enjoy fishing in the areas of the two private campgrounds and boat ramps that service the lake. Those with boats go after the kokanees, browns, and rainbows by trolling around the dam and up the inlet channel. Bass are often found along the dropoffs. Bluegills are easy to catch near the inlet.
Rollins Lake
Rollins Lake is along the Bear River just a couple of miles north of Colfax. During peak summer days the lake can be busy with recreational boaters, but early morning or late afternoon anglers find still water in which to fish for brown and rainbow trout, largemouth and smallmouth bass, catfish, and bluegill. Quiet waters can be found all day long in the coves where the speed limit is 5 MPH.
Where to Fish at Rollins Lake
Anglers do well fishing either from shore or from a boat. Popular fishing spots are in Freeloaders Cove, near the Long Ravine campgrounds and boat ramp, and up the Bear River arm.
Fishing Supplies
Mountain Hardware and Sports
11320 Donner Pass Rd., Truckee, CA
(530) 587-4844
Mountain Hardware and Sports
Fishing tackle

Truckee River Outfitters and Fly Shop
10200 Donner Pass Rd., Truckee, CA
(530) 582-0909

Cabela's
8650 Boomtown Rd., Verdi, NV
(775) 829-4100
Cabela's
Huge store opened in 2007

Reel Anglers Fly Shop
760 South Auburn,
Grass Valley, CA
(530)
New fly fishing store

SPD Market
735 Zion St., Nevada City, CA
(530) 265-4596
A Large Selection of Fishing Gear

Chuck's Bait, Tackle, and Guide Service
28545 N. Lake Blvd.
Kings Beach, CA
(530) 546-8425

Swigard's True Value Hardware
200 N. Lake Blvd.
Tahoe City, CA
(530) 583-3738

Bass Pro Shops
1356 Bass Pro Drive
Manteca, CA
(209) 825-8400
Fishing Guides
Shaun's Guide Service
Truckee, CA
(530) 802-4484
Shaun's Guide Service
Specializing in Donner Lake's trophy Mackinaw, Kokanee, and trout. With over 30 years of experience, Shaun will "make sure your day is filled with catching experiences."

Tight Lines Fishing Guide Service
Tight Lines Guide Service offers professionally guided fishing trips on the Sacramento River, Lake Tahoe, Stampede Reservoir, Donner Lake, Oroville, and Folsom Lake. "We specialize in King Salmon fishing, Striper fishing, Kokanee, Trout, Land Locked King Salmon, and Mackinaw Trout fishing. James has decades of experience and has two boats for different trips, check out our website or give us a call to book a trip!"
888-975-0990
Website: Tight Lines Fishing Guide Service

Four Seasons Fly Fishing
Truckee, CA
(530) 386-0525
Four Seasons Fly Fishing
Fly fishing guide Brian Slusser.

Fish Tales Guide Service
(530) 559-7175
Fish Tales Guide Service
Ed Fisk guides fishing trips in his fully outfitted 19-foot Jetcraft. He has experience fishing in Northern California lakes from Eagle Lake to Stampede Reservoir.

Gilligan's Fly Fishing Guide Service
Truckee, CA
(775) 351-6665
Gilligan's Fly Fishing Guide Service
Matt "Gilligan" Koiles has more than 25 years of fly fishing experience along the Eastern Sierra and around the Tahoe-Truckee region. He knows the Truckee River as well as the Little Truckee, and other local favorites.

More Fishing Destinations
Dave's Sierra Fishing
Dave's Sierra Fishing has dozens of great fishing destinations in the Sierra, including many in Nevada County. You'll find all the information on Dave's Sierra Fishing.