Cycling around Donner Summit
The Interstate 80 corridor over Donner Summit, and adjacent Donner Pass, connect riders with miles of great cycling routes. Some of the most spectacular include the ride up (or down) old Highway 40 between Truckee and Donner Pass. Other popular roads are found on both sides of the pass, from Colfax to Truckee.
Cisco Grove to Truckee via Donner Pass Road
Distance: 21 miles one way
Starting Point: Hampshire Rocks Road at Cisco Grove on Interstate 80
Elevation changes: +1,260 feet -1,160 feet (5,700' - 7,056' - 5,900')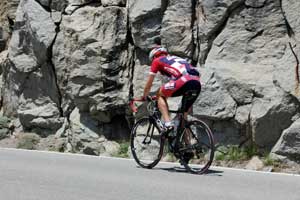 Challenge yourself with this classic ride over Donner Pass and reward yourself with one of the most impressive views on any Sierra road as you descend toward Donner Lake. Begin by Riding out Hampshire Rocks Road and then switch onto Donner Pass Road (Highway 40), paralleling Interstate 80 for 8 miles.
At Soda Springs continue on Donner Pass Road up past Sugar Bowl Ski area and over Donner Pass (mile 12). Then begin the spectacular descent to Truckee, crossing one of the most photographed bridges in the Sierra as you wind your way down to Donner Lake. At the lake (mile 15) the route levels out the rest of the way into Truckee.
Colfax to Dutch Flat
Distance: 13 miles one way
Starting Point: Colfax
Elevation changes: +1000 feet, -200 feet (2,400' - 3,400')

Enjoy this easy ride from historic Colfax past Rollins Reservoir and out to the little town of Dutch Flat. Head north out of Colfax to Highway 174, turn left, and continue straight as it becomes Rollins Lake Road. The road makes a slight dip as it passes the lake and then climbs several hundred feet before crossing Interstate 80. There pick up Magra Road and follow it along the side of the freeway before crossing back at mile 9.5 and entering Gold Run.
In Gold Run pick up Gold Run School Road which will take you northeast and then north into Dutch Flat. You can purchase refreshments at the Dutch Flat Trading Post before starting your return, or you may wish to continue the ride another 3.5 miles up to Baxter.
For a map of this route, see the Transcontinental Railroad Map on the railroad page. The green line on the map is the suggesting cycling route from Colfax to Baxter.
Nevada City to Lake Spaulding
Starting Point: Nevada City
Distance: 26.2 miles one way (a marathon)
Elevation changes: +2,900 feet (2,500' - 5,400 - 5,300')

The ride from the cycling center of Nevada County - Nevada City - up Highway 20 to Lake Spaulding makes a great marathon ride. The nearly 3,000 feet of climbing spread over almost the full length of the ride makes a great workout and provides for a long coast home.
From Nevada City bypass the short section of freeway (Highways 20 and 49) by riding down Broad Street and turning left on Nevada Street. After about a mile it connects with Highway 20. From there on it is a steady ride up the highway. Narrow sections and curves near the beginning are obvious places for caution. After 4 miles you could switch onto the dirt Donner Trail which parallels the highway all the way to Bowman Lake Road. (see a full map of the Pioneer Trail on the bottom of the Horseback Riding page.)
At mile 5 make the traditional stop at the Harmony Market to rest and replenish your supplies. From there on the road is fairly straight. Another steep section is found around Skillman Horse Camp (mile 15). Summit at mile 20 and enjoy a short respite as you descend into Bear Valley. Then climb again for a couple of miles to the Lake Spaulding turnoff. From there on, coast down to the lake.
Truckee River Legacy Trail
Distance: 2.6 miles
Elevation : 5,750 feet, virtually level
Starting Point: Truckee Regional Park
The Truckee River Legacy Trail, a paved biking/walking/jogging path, is being constructed between Donner Memorial State Park and the Glenshire neighborhood of Truckee. Most of the trail will be along the Truckee River. Several phases of the trail have already been completed, connecting Truckee Regional Park with the Riverview Sports Park and beyond to a historic overlook.
Squaw Valley to Tahoe City Bike Trail
Distance: 7.6 miles one way
Elevation changes: -100 +100 (range 6,200' - 6,100')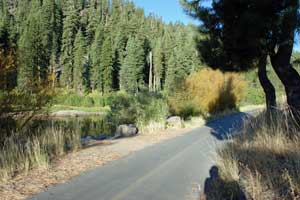 The paved trail from Squaw Valley to Tahoe City is part of the greater Lake Tahoe multi-use trail system. The section along Highway 89 is operated by the Tahoe City Public Utility District. This beautiful route descends from Squaw Valley and turns along the Truckee River, following it all the way into Tahoe City at north Lake Tahoe.
Starting Point: Squaw Valley
The trail is separate from the road (Highway 89) and usually is close to the river, offering a safe, scenic trail that's hard to match. It makes an excellent place to ride with children. There are restrooms available about halfway through the ride at Bell's Landing near the Alpine Meadows turnoff. More restrooms are found at Ramparts, 1.6 miles farther south. At Tahoe City you can turn north or south and continue your ride along the shore of Lake Tahoe on similar multi-use trails.
Highway 89 - From Truckee to Sierraville
Distance: 23 miles
Elevation changes: +1,900 feet - 2,900 feet (5,900' - 6,400' - 4,950')

Enjoy a scenic ride along Highway 89 heading north out of Truckee. For a moderate ride turn around at Little Truckee Summit, 15 miles north of Truckee. By turning there you keep your elevation changes within several hundred feet. From Little Truckee Summit northward the road descends 1,500 feet in 8 miles.
Starting Point: Truckee Ranger Station on Donner Pass Road near northbound Highway 89
Negotiate several round-abouts on the outskirts of Truckee and then head out onto the open road. Highway 89 is marked with Share the Road signs. At mile 3 Donner Camp has restrooms and picnic tables.
At mile 5 the road begins to climb, ascending to 6,400 feet just beyond Sagehen Creek and then descending to join the Little Truckee River and follow it up to Little Truckee Summit. After the summit begins the long descent along Cold Stream to Sierraville. You will find a nice convenience store in this tiny community along with a restaurant.
Highway 267 - From Truckee to Brockway Summit
Distance: 8.5 miles
Elevation changes: +1,400 feet (5,800' - 7,200')

Highway 267 heading south out of Truckee is a popular ride for cyclers. For those looking for gentle terrain, the first 4.5 miles through the Martis Valley are virtually level. The next 4 miles make the steady climb to Brockway Summit.
Starting Point: Truckee Regional Park
Strike out along Brockway Road (Highway 267) out of Truckee, soon leaving the city behind and rolling easily through wide-open Martis Valley. The highway can be busy with Tahoe-bound traffic, but it is wide enough for safe riding. The climb up to Brockway Summit passes Northstar, a winter ski area and vacation home community. At the top of the summit you could continue another 3.5 miles, descending 1000 feet to Kings Beach on the shore of Lake Tahoe.
Another option is to turn west onto what the Truckee Trails Foundation calls the Fiberboard Freeway, a 12 mile paved road that leads out past Watson Lake.
Local Bicycle Shops
Tour of Nevada City
Bicycle Shop
457 Sacramento St., Nevada City, CA
(530) 265-2187
Tour of Nevada City Bicycle Shop
Mountain bikes, road bikes, rentals, service

Real Wheels Bicycle Studio
121 Argall Way
Nevada City, CA
(530) 478-5888
Facebook: Real Wheels Bicycle Studio
sales, service, training, coaching

Paco's Bike and Ski
12047 (B4) Donner Pass Rd., Truckee, CA
(530) 587-5561
Pac's Bike and Ski
Mountain bikes and road bikes

Cyclepaths
10095 West River Street
Truckee, CA
(530) 582-1890
Cyclepaths
Sales, rentals, demos, repairs

The Back Country
11400 Donner Pass Rd.
Truckee, CA
(530) 582-0909
The Back Country Bike Rentals
Road and mountain bike rentals, shuttle to ride starting points available.
Echo Summit

Nearby Echo Summit (Highway 50), at the south end of Lake Tahoe, is another place to turn for more great cycling routes. The Old Meyers Grade from the Tahoe Basin to the top of Echo Summit is a favorite ride. In the Crystal Basin are miles of bike trails and roads connecting the various lakes.
For cycling ideas around Echo Summit, see Discover Echo Summit.