Stampede Reservoir
Location: 15 miles northeast of Truckee. At an elevation of 6,000 feet,
Types of Boating: Open to all kinds of boating, including waterskiing, jetskis, and sailing
The only facilities at the lake are two campgrounds and boat launch ramps.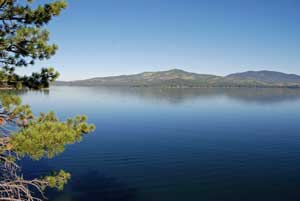 Launch Ramps
Logger Campground - concrete ramp
Emigrant Group Campground - 3 lanes
Captain Robert's Boat Ramp - 3 lanes, concrete, $4 for day-use
Stampede Reservoir Boating Regulations
Quagga and zebra mussel boat inspections recommended before launching.
45 MPH Speed Limit from sunrise to sunset and 10 MPH from sunset to sunrise.
5 MPH speed Limit within 200 feet of swimming beach, swimmers, moored boats, and launch ramp
Boca Reservoir
Location: 1 mile north of Interstate 80, 7 miles east of Truckee
Types of Boating: Waterskiing, jet skis, fishing, sailing, kayaks, canoes
With 980 surface acres, Boca Reservoir is a favorite destination for water sports enthusiasts. During summer afternoons the lake is often alive with waterskiers, wakeboarders, and jetskiers. Anglers try to get out early before the churn of big powerboats takes over.
A paved boat ramp is located on the southwest side of the lake, close to Boca Campground. During times of low water the ramp is not useable.
Prosser Creek Reservoir
Location: 3 miles west of Boca Reservoir and 5 miles north of Truckee
Types of Boating: Fishing, canoes, kayaks (5 MPH speed limit)
Prosser Creek Reservoir is a quiet contrast to Boca. Prosser's 5 MPH speed limit makes Prosser a great place for fishing, kayaking, and canoeing. The lake spreads over 750 surface acres with multiple arms and 11 miles of shoreline.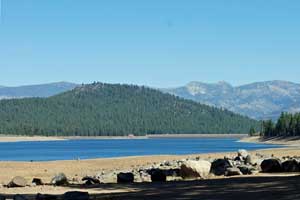 Several launch ramps are located around the lake, several at the end of a peninsula near the campgrounds on the west side and another on the north shore. Campgrounds are located around the lake and a picnic area is found next to Prosser Ranch Group Campground.
Independence Lake
Location: 20 miles north of Truckee via Highway 89 and Independence Lake Road
Types of Boating: Only boats provided by the Nature Preserve at Independence Lake. This is an effort to keep invasive species out of the lake. Float tubes are not allowed.
The Sierra Pacific Power Company sold the land around Independence Lake to the Nature Conservancy in 2010. Now the Truckee Donner Land Trust and The Nature Conservancy jointly manage the property.
Watercraft are available for use on Independence Lake Preserve from June through October. In 2012 a limited number of boats will be provided free on a first-come, first served basis. Boats include 14-foot aluminum boats with 9.9 HP outboards, kayaks, and pontoon float tubes.
For more information about visiting the lake, see Nature Conservancy.
Other Donner Summit Area Lakes
Fordyce Lake
Fordyce Lake is only accessible by 4-wheel vehicle over rugged OHV roads. Most 4-wheelers approach via Eagle Lakes or Meadow Lake. Only non-motorized boats are allowed on the lake. Canoeists and kayakers enjoy exploring its nearly 4-mile length.
French Meadows Reservoir
3-mile long French Meadows Reservoir is 36 miles east of Foresthill, which is 17 miles from Interstate 80 at Auburn. All kinds of boating are permitted at the lake, but submerged hazards make it risky for waterskiers and high speed boating. There are two paved launch ramps and several campgrounds.
Jackson Meadows Reservoir
Jackson Meadows Reservoir is 32 miles northwest of Truckee via Highway 89 and Jackson Lake Road. All kinds of boating are permitted on the lake. There are two launch ramps, one on the east side at Pass Creek Campground and the other on the west side at Woodcamp. The 3-mile long reservoir is an elevation of 6,000 feet. It has one boat-in campground.
Meadow Lake
Meadow Lake is located 35 miles from Truckee via Highway 89, Jackson Lake Road, and Meadow Lake Road. The last several miles require high clearance vehicles. Trailers are not advised. Boating is limited to hand-launched boats.